Conveniently located at one of Woodside's gated community entrances, The Village at Woodside is an exceptional community amenity, where you can live, work, eat and play in a neotraditional neighborhood setting. In addition to Woodside's iconic and state-of-the-art Village Fitness, you'll also find a Health and Wellness Campus here, where several of the area's leading physicians and medical professionals specialize in everything from cardiology and oncology to orthopedic and internal medicine. There are several eateries now open in The Village to enjoy, including an Asian-Fusion style café, an authentic Italian restaurant, and a wine and coffee bar. A salon and spa is now open, and a stunning Pavilion, the community's gathering space with a water feature and seating area, now plays host to events like Third Thursday and the Aiken County Fall Farmer's Market.
During the summer of 2017, we have plans to add even more community attractions to this community destination! Read on for the planned updates you can expect to see by the end of the year.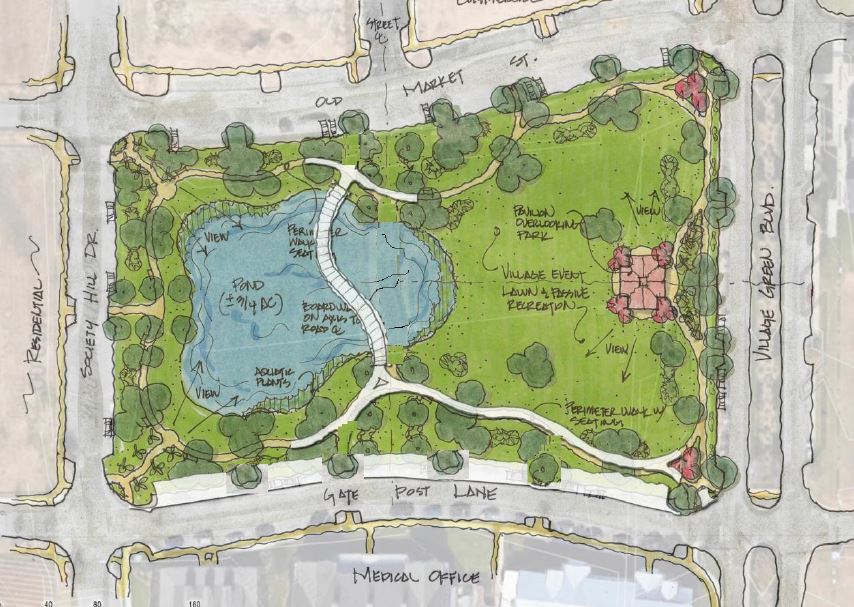 Village Park East (pictured)
In Village Park East, expect a lushly landscaped destination for both events and relaxation. A covered pavilion with a dance floor will play host to public events by the end of Summer 2017, and a beautiful pond with a boardwalk will be added by the end of the year- all surrounded by a walking path to take in all angles of what is sure to be an incredible view!
Village Park West
In Village Park West, by the end of Summer 2017, you will be able to enjoy a covered pavilion and Bocce Ball courts in addition to the walking path already there for enjoyment!
Be sure to click through to our real estate page here to learn about making The Village your home, and for a special treat, join us on a weekend between April 21 and May 29 to tour the Southern Living Inspired Home in The Village, The Savannah! To get tickets for this event, visit our advanced ticket purchase page.
Subscribe for updates on both Woodside and the Village at Woodside below: