IF YOU LOVE THE OUTDOORS, WE'RE A NATURAL FIT
Woodside is situated beside a beautiful, protected nature preserve, and the pristine meadows, lakes, rolling woodlands, award-winning golf courses, and more make for one breathtaking community. Inside the community, we're thrilled to offer several well-lit and handsomely landscaped parks and green spaces that reveal our dedication to the environment and maximize views of our naturally beautiful surroundings. Outside the gates, you'll find just as many opportunities to explore the great outdoors- from protected sanctuaries to a botanical slice of paradise, we've got it all.
Bristlecone Butterfly Park
Breathtaking views are natural in Bristlecone, where the gently rolling landscape of this dedicated monarch garden and bluebird habitat unites woodlands of mature hardwoods and native pines with a unique feature that serves as a central gathering place for neighbors and flighted friends alike.  
Bristlecone's Butterfly Park has been designated both a Certified Butterfly Park and a Certified Monarch Garden by the North American Butterfly Association (NABA). 
The Meadows Park
Featuring a lighted walking path, a rustic picnic pavilion for community gatherings, and a brick fire pit with seating, this dedicated neighborhood gathering space includes a variety of verdant plants from the Southern Living Plant Collection. Join residents for "Meadows Monday," a resident-led weekly social gathering at the park, including cocktails and lively conversation.  
The Reserve Park
Set in a meticulously landscaped greenspace just a stone's throw away from our Nicklaus Course, this serene enclave surrounds Woodside's social hub, The Reserve Club. Those who enjoy more vigorous exercise can enjoy the quarter-mile track in the park by walking, jogging, running, spending time with a pet, or resting and taking in the sun with a cold beverage from the bar.  
Summer Hill Park
This beautifully lush and landscaped community amenity features a pond with a fountain, a stone and timber picnic pavilion plus seating area, and a peaceful lighted walking path and wooden footbridge connecting back into Woodside's 21-mile system of nature trails. Stop by to find neighbors enjoying a picnic at the pavilion or strolling by on a leisurely hike.  
The first of three scenic parks located in The Village at Woodside, the West Village Park is home to the community's Bocce Ball Courts, with an adjacent pergola for live music shows or other small events. This park is also one of the closest to The Village's local eateries, including The Village Café, Romas, and AnShu Asian Café!  
The Village's East Park features stunning views of a pond with a walkway, trails, and a pergola for casual live music shows and larger annual events like The Village's July 4th Celebration. This park is located just on the other side of the community's local eateries and leads directly towards one of Woodside's many convenient entrances. 
As The Village's smallest park, this quaint community gathering space is situated within the residential area of the community and features a grand fire pit for afternoon evening gatherings. Especially during the autumn months, this park is perfect for a drink or two with friends! 
PARKS, GARDENS, AND NATURE SANCTUARIES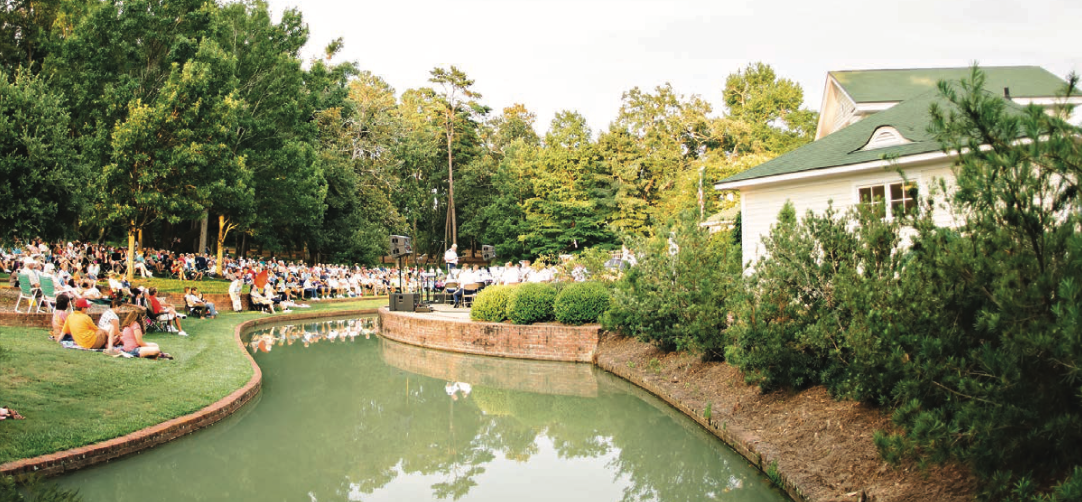 Click below for more information about our hometown in Aiken, a Southern Living Magazine's "South's Best Small Town"