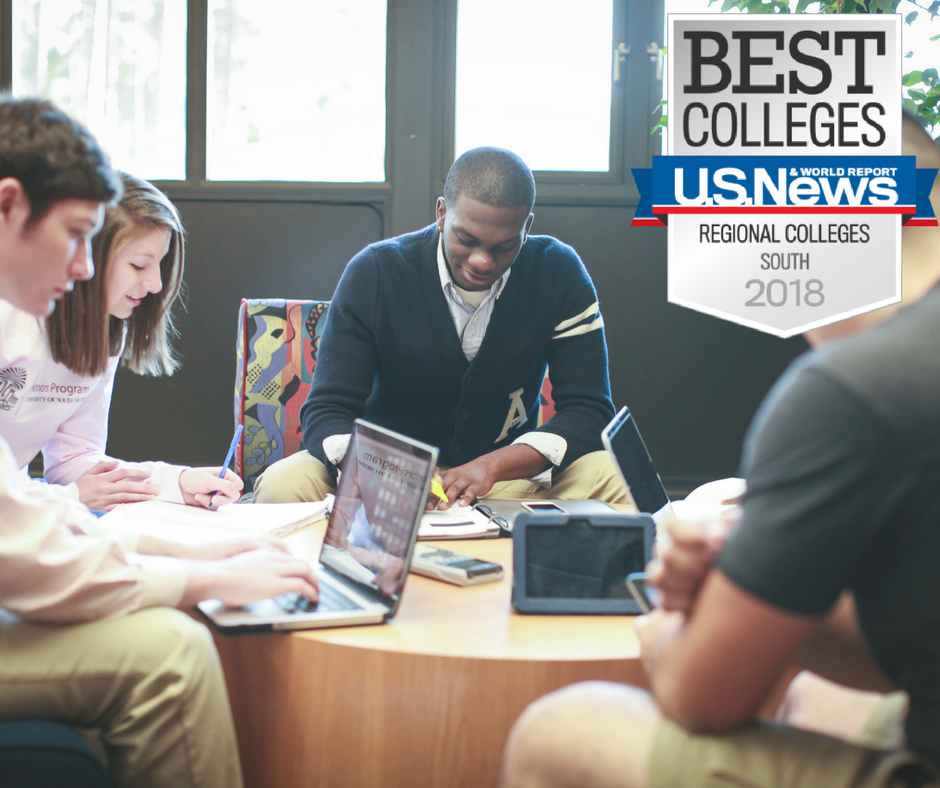 Aiken, SC: an Ideal-Living "Best College Town"
In 2017, Aiken, SC was named by Ideal-Living magazine as a "Best College Town," and with University of South Carolina Aiken's track record, it's clear to see why. Read on for more information on the university, the awards they're receiving, and why retiring to a college town is growing in popularity.
20 Years of Excellence
In 2018, for the 13th year running, U.S. News and World Report has recognized USCA as the #1 Public Regional College in the South in the magazine's annual "America's Best Colleges" guide. This marks USCA's 20th consecutive ranking among the top three in this category- and its 13th time in first place. (There are 12 states included in the southern region, and hundreds of universities compete for these rankings.) What an incredible achievement for our hometown college!
In addition, USC Aiken's Veteran and Military Student Success Center earned U.S. News and World Report's #1 spot as the Best for Vets Regional College in the South. Approximately 11 percent of the student body is made up of veterans or military students.
About USCA
USC Aiken is a comprehensive university in the University of South Carolina system. It offers undergraduate and master's degrees to approximately 3,500 students in 50 programs of study, and contributes more than $281 million to our local economy. See below for a listing of just a few of the other community assets USCA offers Aiken residents:
The Etherredge Center: The Etherredge Center for the Fine & Performing Arts promotes and inspires cultural and intellectual opportunities for the benefit of all Aiken residents. Catch a play, get tickets to a ballet, enjoy a symphony performance and much more.
The Academy for Lifelong Learning: This USCA amenity is a volunteer-run organization that provides seniors in Aiken, SC and the entire Central Savannah River Area with a wide range of learning opportunities tailored to their needs and interests.
USCA Convocation Center: The USCA Convocation Center is a state of the art facility with capacity ranging from 3,500-to 4,100 patrons for sporting events, concerts and more!
Why a "Best College Town" Might be Best for You
1. Continuing Education Opportunities
Like with the USCA Lifelong Learning Academy, college towns offer a wide variety of educational opportunities for youth and adults alike. Take advantage of programs like the one offered at USCA to network and socialize with adult students, or take advantage of class audits to join a younger demographic in the classroom.
2. Cultural Events and Quality Dining
Colleges bring an arts appreciation that trickles throughout the local community. Like with the USCA Etherredge and Convocation Centers, college towns offer symphonic performances, dance recitals, theater performances and much more. With The Juilliard School's affiliation with Aiken, SC, our town is fortunate to boast the arts appreciation inspired by not one but two world-class educational organizations!
The economic impact of a college brings with it the ability to sustain higher-quality dining options typically more affordable than those found in larger cities. Here again, Aiken, SC is no exception. Read more about the dining options available in Aiken's thriving downtown here.
3. World-Class Healthcare
College towns are often associated with local hospitals, which brings with it high-quality healthcare. In addition to Aiken Regional Hospital, Aiken is just a short drive from a VA medical facility and top-ranked Georgia medical care in nearby Augusta, GA. Learn more here about healthcare options convenient to Aiken.
4. Friendly, Engaged Communities
College towns differ from major metropolitan cities in that they typically have a lower cost of living, and an incredibly engaged local population invested in the success of the town. With the need for volunteers, mentors, civic organizations and much more, colleges depend on the local community's involvement to thrive. The honors bestowed on local USCA for the past 20 years speak volumes for the involvement of Aiken locals in its continued success! To learn more about Aiken's low cost of living, visit our page here.
Explore Our "Best College Town" for Yourself
Submit your information and preferred dates today to reserve your time with a community expert on our 3-day, 2-night Discovery Package, starting at just $199.