A Welcoming Lifestyle Community You'll Love
As we continue the February "Month of Love" series, we turn to Woodside homeowners Deb and Barry Shultz for what made them fall instantly in love with our community:
"It's like going to college your freshman year. You're with almost everyone who is in the same phase of life: very eager to meet you and develop new friends."
-Barry Shultz, Woodside Resident
Deb and Barry's story echoes many others who have chosen Woodside as the best lifestyle community for them. Thanks to the neighborhood events, clubs and social groups and planned activities at The Reserve Club at Woodside, it's easy to quickly form new and lasting relationships. Watch the Shultz story below, and read on in this week's "month of love" post to learn more about all of the ways we facilitate that sense of belonging.
A Nontransient Community
What makes Woodside property owners more likely to establish lasting friendships than members of other active adult communities? One reason might surprise you! A large number of lifestyle communities, particularly in destination areas like mountain and coastal regions, are prone to people who live there seasonally, or rent out their homes during times of the year when tourism traffic is high. These are also referred to as transient communities. At Woodside, one of the facets of life our neighbors enjoy most is that the vast majority of people who move here do so with the intent to live here full-time. This means you won't have new neighbors every six months, and it's much easier to form bonds with those around you at social events and neighborhood mixers. This is also a reason why Woodside homeowners are such key members of local businesses and charitable organizations: people who move to Aiken, SC call it home year-round, and are more likely to invest in efforts that give back to and grow the surrounding area.
Enjoy a Social Hub with Events and More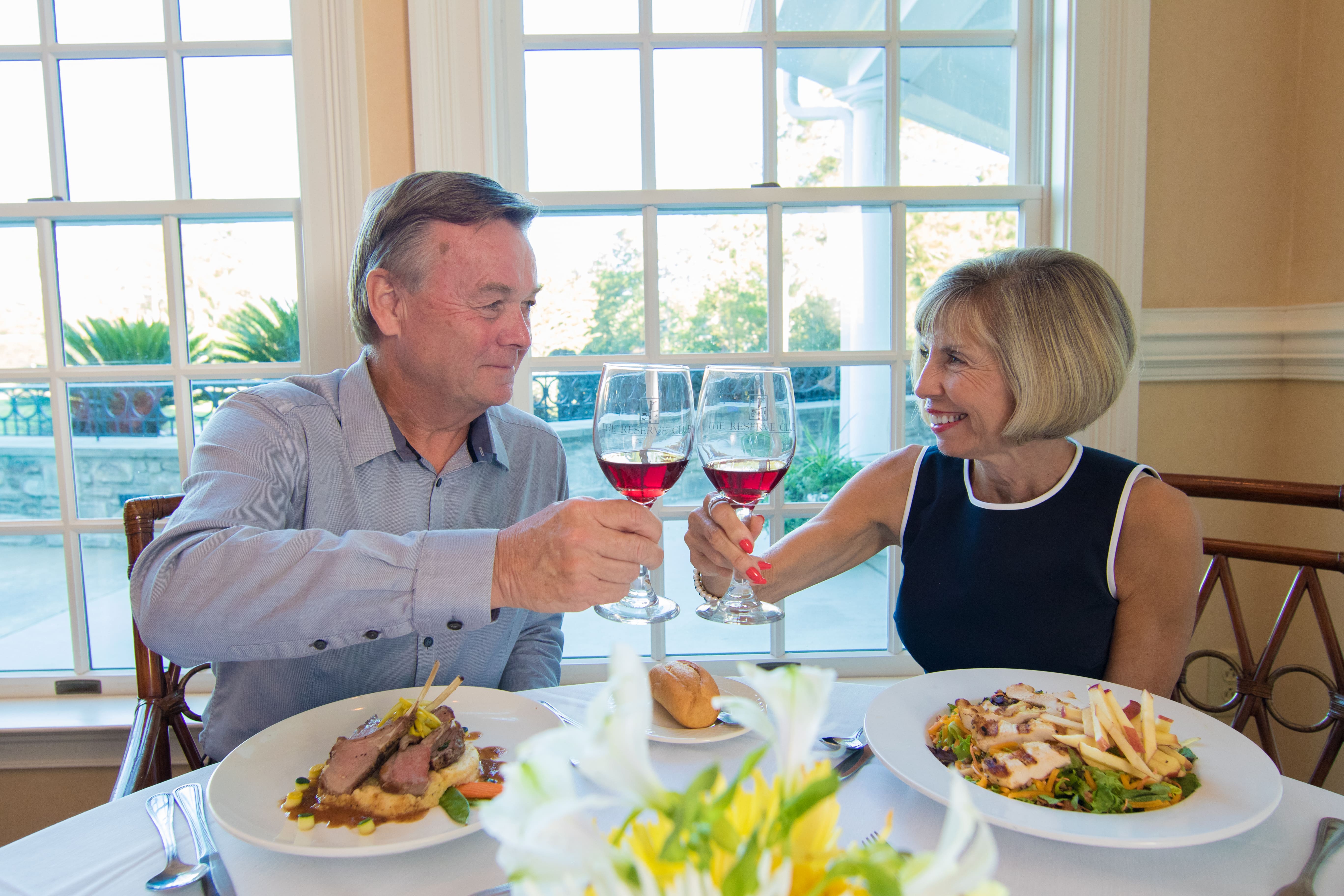 Another way that Woodside helps its property owners form bonds is by investing into The Reserve Club at Woodside, the social hub of the community. This isn't your average country club. Thanks to the recent expansion of the facilities, members now have four dining options to enjoy here, along with a library, and a full calendar of events that includes wine tastings, cooking classes, dinner theater and much more. Stop by the craft room to catch a painting class, the event lawn for live music, or one of the ballrooms to enjoy a comedy show. We're always adding fun new ways to bring Woodside residents together!
A Lifestyle Community Packed with Amenities
"When you come down to (Woodside), it's really easy to make friends. We have more friends down here in one year than we had back home!"
-Mike Pisano
Another way that Woodside residents love to connect with one another is through the use of our extensive list of community amenities. Do you prefer the outdoors? You'll probably make a few new friends on your next hike through our trails system! Would you rather spend your time outdoors on the golf course? Sign up for a tournament or a lesson to meet others that share your passion. If you enjoy spending time in a fitness class getting healthy, make new friends trying yoga or cycling at Village Fitness. Whatever your hobbies are, Woodside continues investing in its community amenities to ensure you'll always have a world-class place to enjoy it with some of the best friends you may not have even met yet.
More than 60 Member-led Clubs and Social Groups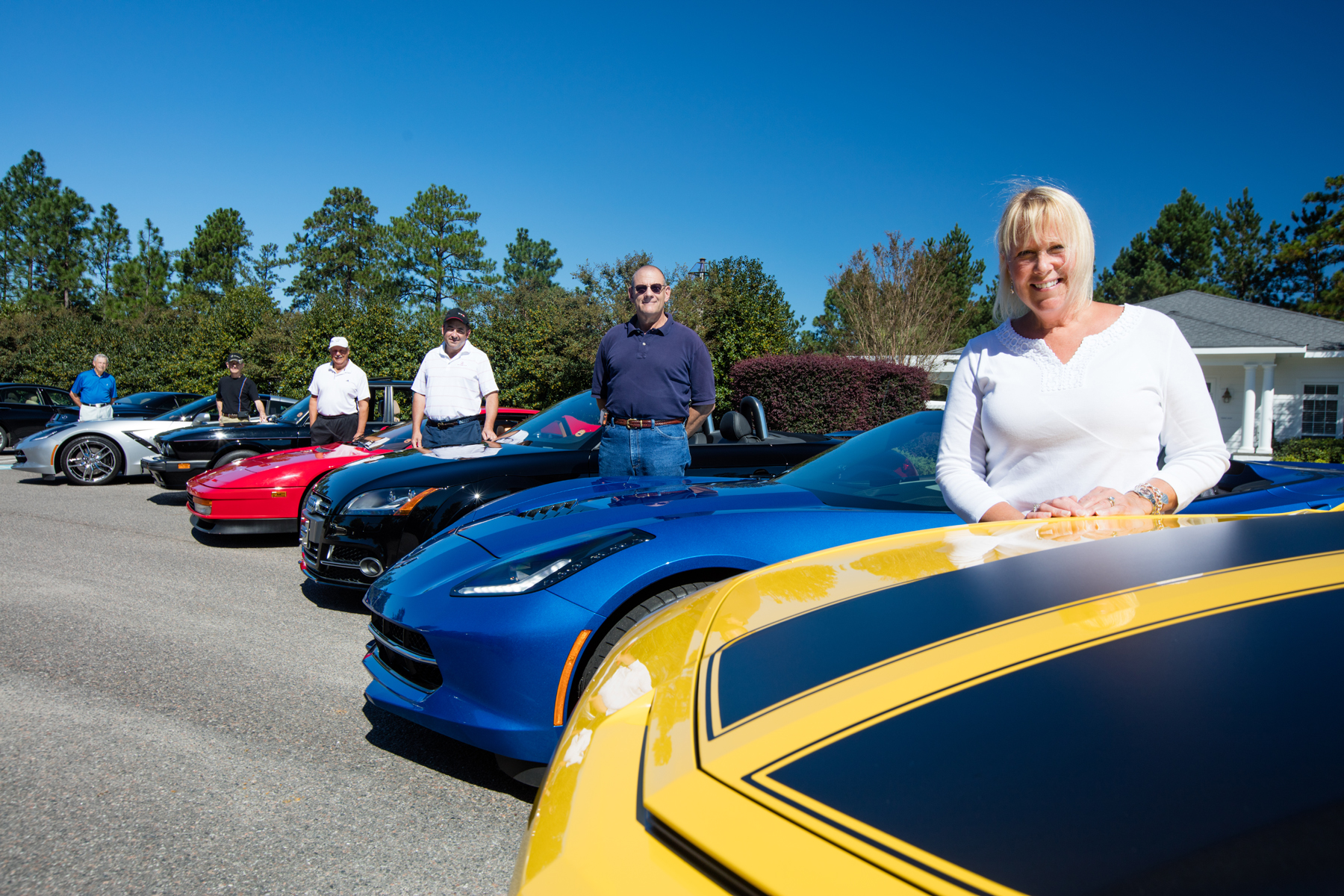 Our team loves to plan community events that help neighbors connect with one another, but some of the best opportunities Woodside owners have to form new friendships are through to 60+ clubs and social groups that other property owners create! From book clubs to classic car enthusiasts, and film clubs to investment groups, the list is always growing. The best part? If (somehow) you have an interest that isn't yet represented by one of the groups in our roster, we encourage you to start one, and will help you recruit members!
The Best Community for Singles
"It's a community and it's more than that, it's a family. I came here all by myself and I have made probably the best group of friends I've ever had in my life. I absolutely love it! Best decision I ever made."
-Nita Roberts
Like the four ladies you'll meet here, more and more singles are identifying Woodside as the best lifestyle community for singles. Why? Thanks to the many ways that we facilitate new relationships, from amenities to singles clubs and more, you don't have to have a significant other to enjoy life within our community. Men and women alike are making the decision to move to Woodside because they know before moving in that they'll have the strongest support system here of any they've ever experienced. At Pub Club at The Reserve Club at Woodside each Friday night, you can't miss the group of ladies pictured here- they enjoy the company of new and longtime friends, single and married alike, and will probably be the first to welcome you during your Woodside Discovery Visit!
Shared Gathering Spaces with Beautiful Views
Woodside earned its designation as a Southern Living Inspired Community because we achieved a distinct pride of place and created so many beautiful shared spaces for neighbors to connect with one another. Whether you meet up with a friend to walk your dogs in Enclave Park, or sit beside the pond in The Village at Woodside after a meal at one of its restaurants, we pride ourselves on creating beautiful backdrops where Woodside property owners can make new and cherished memories.
Neighborhood Events You'll Love
The Woodside staff loves to plan a party! However, much like the clubs and social groups led by our members, some of the best soirees are hosted by our property owners! Much like the Oyster Roast captured here, you can expect invitations to events like the annual Hollow Creek Reserve weekend, where neighbors host dinners, a golf tournament, tennis and pickleball tournaments and more for a full weekend embracing one another. You might also see invitations to backyard luaus to watch the sun set over one of our ponds or lakes, or the monthly neighborhood dinner at a local restaurant. At Woodside, our neighbors don't just embrace the culture of togetherness that people love about our lifestyle community: they create it!
Aiken, SC: A Southern Living Magazine 2018 "Friendliest Town"
"People here didn't ask 'What did you do?' or 'What job did you have?' or 'What school did you go to?' Their questions were more, 'So what are you going to do now that you're here?' And it didn't really matter what you were, it's what you want to be when you come here."
-Dave Rodgers
Woodside is a rare community that is able to boast not only that it's a warm and welcoming lifestyle community, but that it is located within a town that was named by Southern Living Magazine as the South's "Friendliest Town" in 2018! Because people choose Aiken for relocation from across the country, and in fact from across the globe, we are a uniquely diverse Southern town. We enjoy all the charms of a slower pace of life, and all the culture and interests that each unique individual brings along with him or her. Thanks to this melting pot atmosphere, though you will certainly meet a fellow alumnus of your school, or someone else from your hometown, Aiken and Woodside residents come here to achieve a new lifestyle they've worked and saved for their entire lives. As Dave Rodgers alludes to in his story, we don't care as much about your resume in Aiken as we do about the interests and hobbies we can enjoy with you now.
Get Social With Us
If you'd like a real behind the scenes look at Woodside's active social scene, follow us on Facebook! Here you'll see weekly updates from The Reserve Club at Woodside, upcoming events, more information on clubs and social groups and more- directly in your newsfeed!
Plan Your Visit Today
Whether you're looking for the best community for singles to call home, or just the best place to call home to form new friendships in general, it's time to plan your Woodside visit. Like the homeowners who have shared their stories here, you'll realize in one trip what makes the Woodside lifestyle so special: the people.