Nature and Walking Trails
Woodside rests beside a gorgeous dedicated nature preserve, with parks and green spaces, trails, lush rolling hills and pristine meadows, making us the perfect destination for those that take comfort in the outdoors. Whether you prefer to get a relaxing breath of fresh air, or challenge yourself with a long and scenic hike, you'll find what you're looking for just outside your front door in Woodside's system of trails.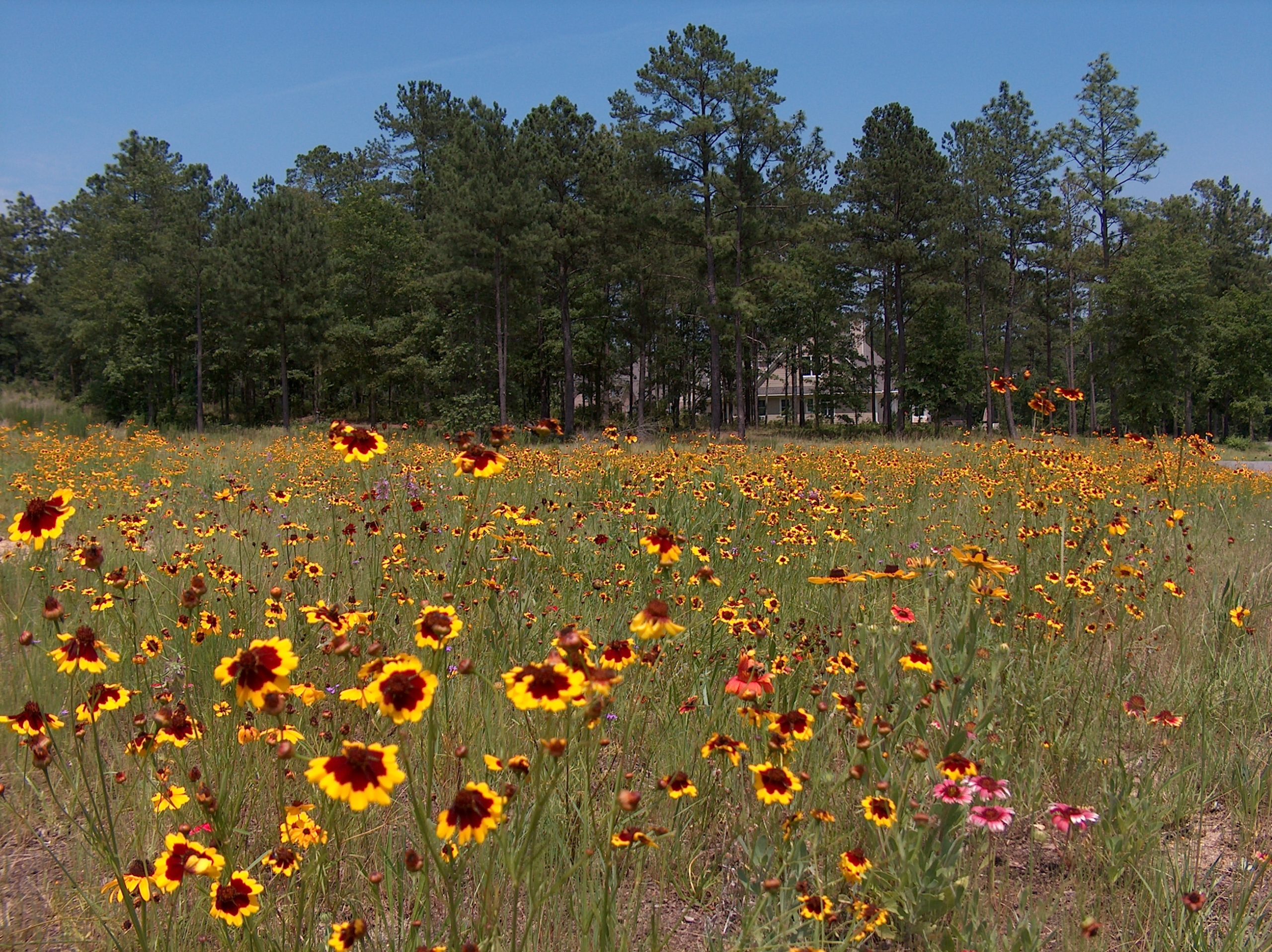 THE PERIMETER TRAIL, 7 MILES
As the most well-known and traversed trail in the community, the Perimeter trail is a short walk from the front step of nearly all our homes and leads walkers through and around some of the best lake and golf course views in our neighborhoods. 
THE MEADOWS LOOP TRAIL, 0.95 MILES
Located in Woodside's scenic Meadows neighborhood, this flat trail loops around the lush landscape surrounding the neighborhood's park and pavilion. Take a break during your walk to enjoy elegantly curated flowers and greenery from the Southern Living Plant Collection, or rest in the gazebo by the outdoor fire pit.  
SUMMER HILL LOOP, 0.25 MILES
This trail wanders around the park in Woodside's Summer Hill neighborhood, featuring a gorgeous pond and covered Pavilion. The path connects back to Woodside's trail network, so you can either enjoy the loop or venture into the community's extensive system of trails for a more challenging hike.  
THE RESERVE PARK TRAIL, 0.25 MILES
Set in our lushly landscaped Reserve Park, this trail is a quarter-mile paved loop where our residents can enjoy walking to the park and tuning into their favorite music while they walk, jog, or run with a view that a treadmill just can't compete with. 
THE MILL ROAD TRAIL, 1 MILE
This "in and out" trail wanders through a lovely wooded area behind the 15th and 16th fairways of The Reserve's Nicklaus Design Golf Course. The trail concludes with a beautiful view of the course, where walkers then backtrack to the trail's starting point. 
THE OAKMAN TRAIL, 2.1 MILES
Oakman Trails are two scenic options for discovering the beauty within the gates of Woodside. The Long Circuit is a mix of woodland trails and paved sidewalks that travels through wooded areas between the fifth and sixth holes of The Reserve's Nicklaus Design Course. Walkers get views of stunning Oakman Lake and wetland areas, crossing over bridges and dams on their adventure through the community.
THE CREEK WALK, 0.5 MILES
The Creek trail is a short neighborhood trail, perfect for those looking for a casual and scenic stroll. With a flat path that follows and crosses over Cottonwood Creek, observation platforms with seating, all in a shaded woodland area, this trail provides the perfect setting for a retreat into a naturally beautiful setting.
THE AZALEA TRAIL, 1.5 MILES
Beautifully shaded with the community's established overhanging flora, the length of this trail in and out totals 1.5 miles and offers hilly terrain to challenge yourself on in comparison to most other trails in Woodside. Make sure to bring a sturdy pair of hiking boots and a walking stick for support!  
THE VILLAGE TRAILS, 2.1 MILES
This system of trails runs through and around the neo-traditional community of The Village at Woodside, next to businesses, homes, and restaurants alike. From lighted paths around landscaped gardens, bridges, and ponds to meandering trails through woodlands, the trails in this community are perfect for a rejuvenating stroll with your morning coffee.  
THE HOLLOW CREEK TRAIL, 5 MILES
This lollypop-shaped trail follows the perimeter of the 110-acre Hollow Creek Land Preserve, a dedicated nature sanctuary set aside by the community's developer, Rick Steele, in 2007. While traversing this trail, you'll enjoy stunning views of 4 golf holes, a pedestrian bridge, beautiful woodland areas, water views, and the Anderson Pond dam. 
AIKEN TRAILS
Outside of Woodside's gates lies an abundance of preserved green spaces to explore. Read more below about these various nature sanctuaries, or click below to learn more about everything else our hometown of Aiken has to offer!  
Just outside the gates of Woodside, the town of Aiken, South Carolina offers options galore for your next outdoor escape. Check out some of the locals' favorites while visiting on your Adventure Awaits package! In the heart of downtown Aiken, venture into one of the largest urban nature preserves in the country, Hitchcock Woods. This 2,100-acre longleaf pine forest offers equestrians, hikers, dog walkers and runners more than 65 miles of sandy trails that traipse through the picturesque ecosystems located in the Woods, and is a favorite of the Woodside Trail Group, who often enjoy hikes and geocaching excursions there. Check out Aiken's diverse collection of trees and greenery taking in the scenic walking paths of the botanical Hopelands Gardens, where you'll find outdoor concerts, holiday events, and family-friendly events like "Storytime in the Gardens." Bring your mobile phone to the Aiken Arboretum Trail to learn the history of some of the grand oaks and lumbering trees resting throughout downtown, explore the lakes and trails of Aiken State Park, or wander through the natural wetlands of Carolina Bay Nature Reserve. Whatever fresh air adventure you're seeking, you'll find it nestled within the town of Aiken, South Carolina!
For those looking to share their love of the great outdoors, the Woodside Trail Group offers a like-minded community of over 180 nature and hiking enthusiasts who organize group hikes to explore trails around Woodside and Aiken, as well as work parties to maintain the extensive 21-mile system of nature trails within Woodside. 
Since the group's formation in 2008, members have made critical contributions to improving Woodside's overall trail conditions, including defining existing trails and marking paths with signs and blazes so that our residents can more easily follow routes. 
Interested in hiking with the Woodside Trail Group? Click below to visit their website for more information about upcoming hikes!