Southern Living Inspired Community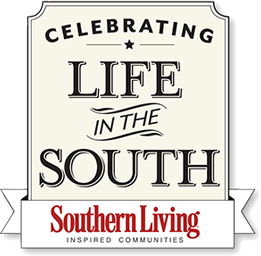 For nearly 50 years, Southern Living has served as the leading inspiration for the region, featuring the best ideas and emphasizing the positive aspects about life in the South. A Southern Living Inspired Community is part of a collection of neighborhoods marked by charm, taste, and Southern spirit. It is a community that embraces and honors the land, contains environments that foster gatherings, and showcases the natural beauty of the Southern landscape and hardscape.
Southern Living has handpicked Woodside as an Inspired Community; it embraces a pride of place and encourages new traditions of living in the South.
To find out more about the featured neighborhoods in the Woodside Southern Living Inspired Community, click here. 
WOODSIDE'S FIRST
SOUTHERN LIVING INSPIRED HOME TOUR
Woodside's first Southern Living Inspired Home Tour, which featured not one but two Southern Living Inspired Homes, was an incredible experience. Not only did the public have the opportunity to come in and view the best that Woodside and Carolina Signature Homes, a Southern Living Custom Home Builder member, have to offer, but also had the satisfaction of knowing they were contributing to three incredibly deserving charities in the process. Thanks to everyone that came out to support the tour, we were able to raise $25,000 to split between Saratoga WarHorse, Operation FINALLY HOME, and The ALS Association South Carolina Chapter.
"Woodside Plantation captures the Southern Living lifestyle in every way. Its relaxed environment and natural beauty serve as the backdrop for sharing life's special moments with family and friends. There's a true sense of place at Woodside, offering residents an ideal way to live, work, and enjoy the community. Each month Southern Living connects with nearly one million readers in South Carolina and is happy to now highlight this special place for Southerners to call home."
– Kristen Bryan, Marketing Director at Southern Living
Woodside is a thoughtfully planned and masterfully developed gated community. As one of the country's most celebrated lifestyle communities, Woodside offers a warm, welcoming atmosphere, where social events and community amenities are never in short supply – and new neighbors become old friends in a matter of minutes.
As one of 14 Inspired Communities, Woodside is excited to be part of such a unique collection of residential properties across the South marked by charm, taste, and Southern spirit that exemplify the Southern Living Inspired Community lifestyle.