The Reserve Club at Woodside celebrated the grand opening of the newly completed Hollow Creek Golf Course during the first weekend in July of this year, and in the short time since it's already made quite an impression on the golf community. Readers of Carolinas Golf Magazine learned all about Hollow Creek Golf Course in the two-page article featured in their fall issue that has just been released, and we're excited to share it with you first below!
Golf at Woodside
The private golf courses available for play at The Reserve Club offer two distinct and unforgettable experiences, enhancing and taking advantage of the breathtaking vistas and rolling terrain within our community. What's more, thanks to Aiken's mild year-round climate, you can enjoy the sport in the heart of golf country without seasonal limitations! Learn more about Aiken's rich golf history, the PGA Tour Professionals who call Aiken home, and more in our latest golf video with David Seawell:
Hollow Creek Golf Course
A Clyde Johnston and Fuzzy Zoeller Design
Hollow Creek Golf Course was fully unveiled July of this year, and the response to this new course- especially in a time when many courses are being repurposed and redeveloped- has been overwhelmingly positive. But don't just take our word for it. Be one of the first to read the article below from the fall issue of Carolinas Golf Magazine highlighting the new course and what makes Woodside golf so special:
"It's not an exaggeration to describe Aiken, South Carolina as a golf-loving community. The village-like city, only a 30-minute drive from Georgia's Augusta National Golf Club, boasts nearly a dozen premium courses for its 31,000 residents to enjoy.
Residents of Aiken- Southern Living Magazine's "South's Best Small Town" of 2018- are so enthusiastic about great golf that not even a global pandemic could hold back the July opening of The Reserve Club (TRC) at Woodside's long-awaited Hollow Creek Golf Course. The course, a collaboration between Masters and US Open Champion Fuzzy Zoeller and SC Lowcountry Hall of Fame designer Clyde Johnston, complements the established Nicklaus Design Reserve Course built in 2002.
'We'd planned on a soft opening during our traditional Masters Week in April," says TRC Membership Director Gabby Dubuc. "But, of course, the pandemic and postponement of the tournament down the road forced us to change our plans. We were delighted, however, to host a virtual grand opening on July 1, followed by the course opening for play the next day.'
More than 160 rounds were carded on that belated opening day, with members offering rave reviews of their new track.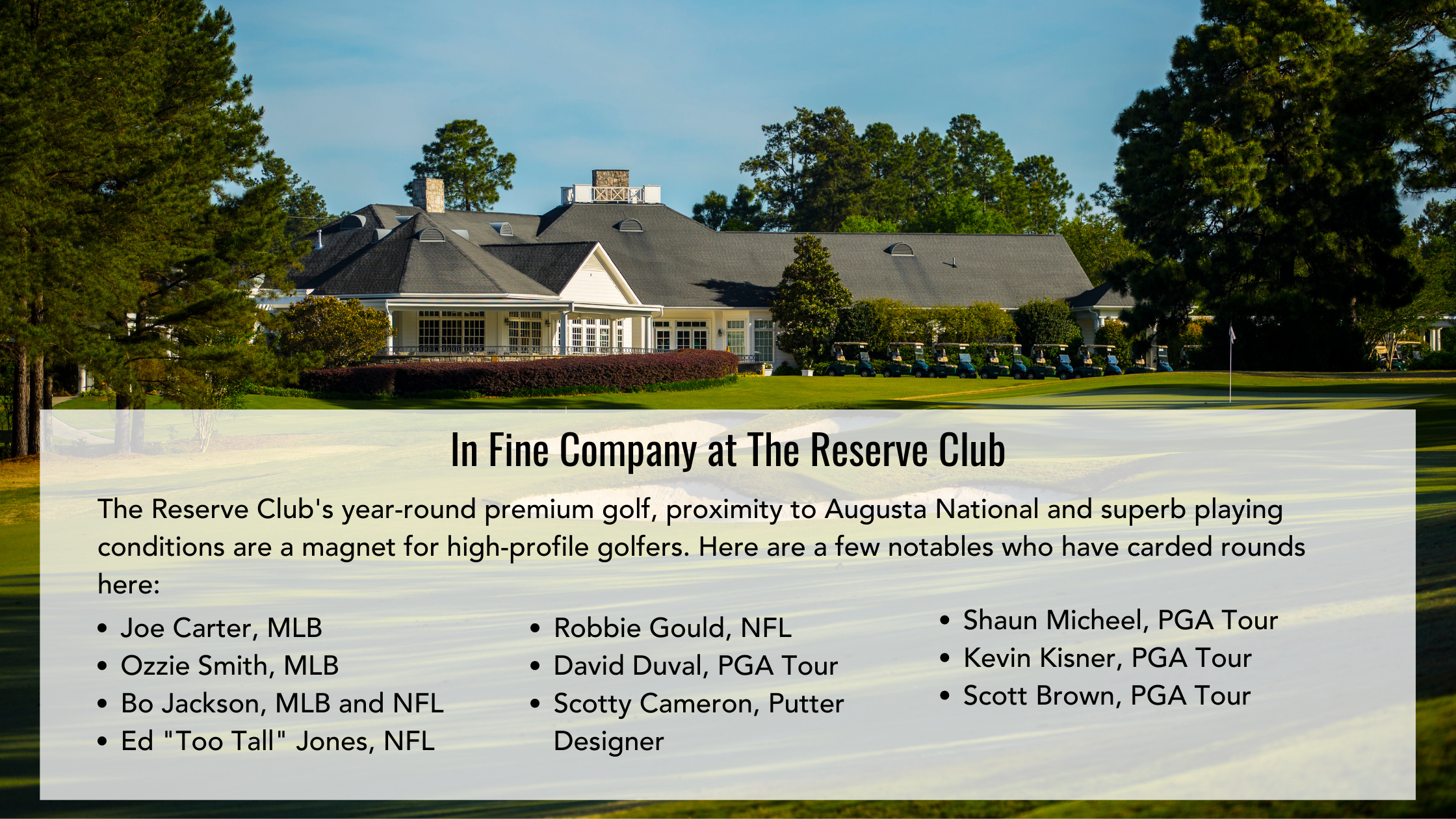 Annually, The Reserve Club showcases its special brand of hospitality over the 10 days surrounding the Masters, capitalizing on the global buzz accompanying professional golf's major tournament held in nearby Augusta. Catering to golfers from across the country and as far away as Australia, Asia and Europe, TRC's Masters Week is a unique event offering visitors a memory-making bookend alongside their visit to the year's first major.
'We're the only club in the area offering this luxury VIP experience for Masters visitors,' said TRC General Manager Saul Schwartz. 'When  you come to The Reserve Club, you are a member for the day. We turn our ballroom into a large VIP suite, complete with big screen televisions for all the golf action. We offer Bloody Marys and breakfast pre-round in the morning, lounge access all day for watching the tournament, a great lunch, afternoon rounds, and each evening we have a steakhouse setup with steak and lobster, fine wine, cigars and shuttle services.'
What began in 2004 with 600 rounds has grown to nearly 1,000 expected this fall when the rescheduled event coincides with the new Masters dates in November.
Of course, TRC's game is on all year with premium golf as its centerpiece.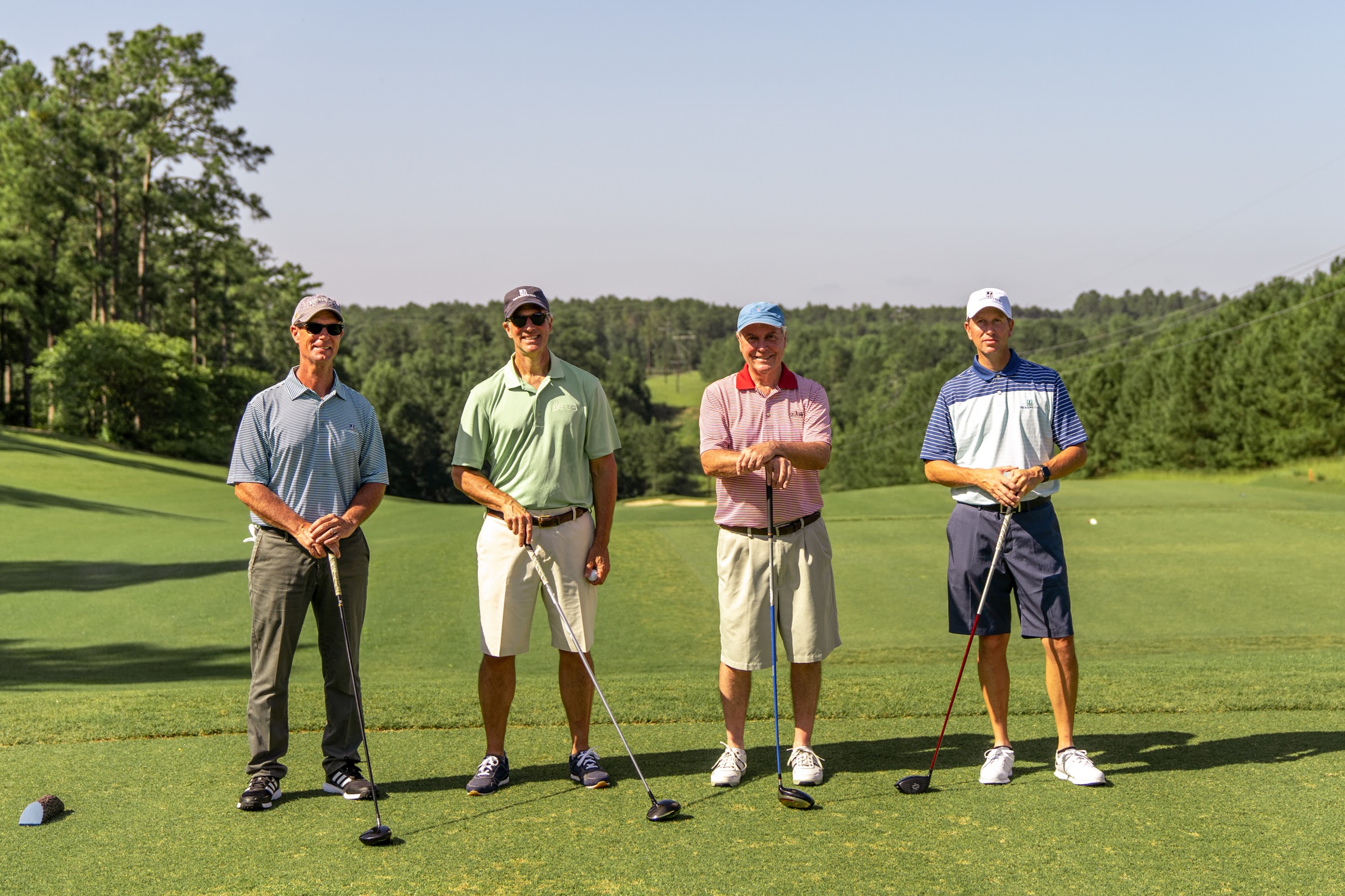 'Our Reserve Course is very playable and enjoyable for golfers at every level,' says John Keller, PGA Director of Golf at TRC. 'Steve Nicklaus designed a fair, yet challenging layout. The key to scoring well here is keeping tee shots in the fairway, which should yield to approach shots to greens that are fast, yet true.' Keller says No. 16, a downhill par 3, is the signature hole here with the elevated tee giving golfers a good look at the green overlooking scenic Spalding Lake. 'We have more elevation here than people might expect. This course is one our members never tire of.'
The new Hollow Creek course is named after the bordering nature preserve and rests in South Carolina's first designated Bluebird habitat. 'Hollow Creek is a completely different style and feel than the Reserve course,' says Keller. 'It's a bit tougher, though very fun to play.'
'Clyde was here almost monthly for more than a year working on the course,' says Keller. 'The result is nothing short of spectacular.'
In fact, you could call it close to masterful."
---
To read the full article written by Michael J. Solender, visit Carolinas Golf Magazine's website here to browse the digital copy of their Fall edition.
To schedule your Woodside visit to experience our spectacular golf and array of other amenities for yourself, simply complete the form below: