Although neighbors across the Woodside Communities come from all backgrounds and geographical regions, there is one holiday we all celebrate together as family: Independence Day! From our private club, The Reserve Club at Woodside, to our neotraditional community, The Village at Woodside, residents from across our communities came together for a fun-filled day celebrating our nation's birthday. For a recap on our celebrations, check out the videos and information below!
The Village at Woodside's "Star-Spangled Bash"
The Village at Woodside is a mixed-use community with residential homes, parks, walking trails, and commercial spaces including a spa, restaurants, medical offices and more. Thanks to the convenience this community offers for local visitors, our parks have become the go-to place for family-friendly events! On July 4th at The Village at Woodside's "Star-Spangled Bash," it was no surprise that our parks were filled with local families coming to enjoy the festivities we planned for a cause.
Families enjoyed face painting, inflatables, music, bocce in our Bocce Complex, local food trucks, and gelato from one of our restaurants, The Village Café! Thanks to our local sponsors, we were able to offer this entertainment at no cost; however, we did ask that families consider donating to a charity near to the Woodside family, Operation FINALLY HOME.
This organization, which donates mortgage-free homes to wounded veterans and the families of fallen service members, currently has over 250 home projects completed or in planning in 33 states. Thanks to the support of our local community, and of our sponsors Aiken Pest Control and Howard Lumber Company, we were able to enjoy a great time celebrating Independence Day, and send almost $600 in donations to this incredible nonprofit!
The Reserve Club at Woodside's Annual Independence Day Celebration
At The Reserve Club at Woodside, our members celebrated July 4th all day long! Take a look below for the full schedule of events that brought our members together:
-Flag Golf Tournament
-Racquets Round Robin
-Poolside Picnic and Games
-All-American Cookout
-Annual Flag Ceremony
-Dance Party Under the Stars
-Fireworks Finale
No matter our members' hobbies, they all share a patriotic passion, and it was an exciting and busy day as so many families came together to celebrate with one another! The video above was captured at our Annual Flag Ceremony, where members from each branch of the military represented the Armed Forces, including the honored Missing Man Table for all our heroes lost during active service. Thanks to the efforts from our Village at Woodside "Star-Spangled Bash," two military families nominated and voted on through social media were selected to join us for our festivities as honored guests.
Take a look at our fun Poolside Picnic below!
The night concluded with a dance party under the stars, and a professional fireworks finale that our members are still talking about today!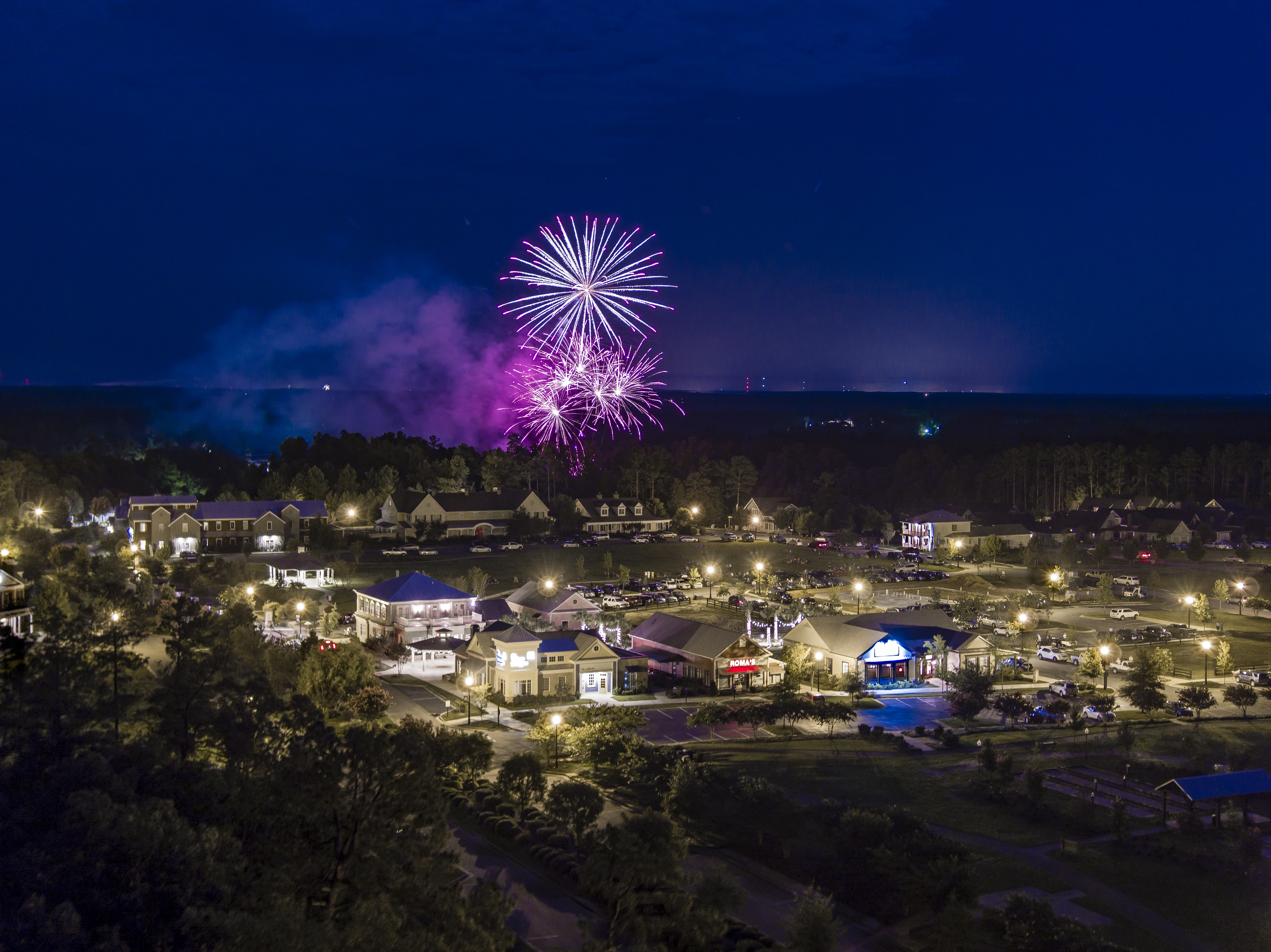 No matter the background, we all enjoy Independence Day across the Woodside Communities for fun with families and solemn remembrance for those who have made the freedom we enjoy possible. This annual day is by far the largest community-wide celebration we offer, and we hope you'll join us next year! To find your perfect Woodside home, and join our family of patriots for next year's American Birthday Bash, complete the form below to get started today!
PLAN YOUR VISIT
*Subject to Availability